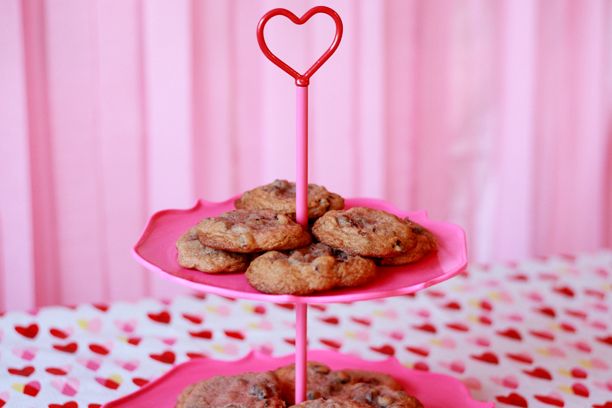 Valentine's Day is really just an excuse that someone made up to wear pink and eat chocolate. If that sounded like complaining, then I didn't convey the right tone with my mad typing skills. It's the best idea I've ever heard!! On the chocolate side of things, my go to treat is chocolate covered cherries. I'm a big fan of berries and chocolate, so I wondered what it would taste like to take my usual chocolate chip cookies and add some dried cherries.
Now, call me crazy (or call me maybe…whichever), but of all the chocolate chip recipes I've tried so far, I actually like the one on the back of the Nestlé bag the best. Yep, that one. What can I say? Those little Nestlé workers know what they're doing. I omitted the nuts and added 1 cup of chopped dried cherries at the same time I mixed in the chocolate chips. I also threw in a few drops of pink food coloring to add a slight tinge of pink for the Valentine's theme.
The creamy chocolate chips and the tart cherries are a great cookie version of my favorite chocolate treat. I knew Todd liked them when he told me he didn't want me to take the extras to work the next day; he wanted them all for himself. Success! Are you making any new treats this Valentine's day?