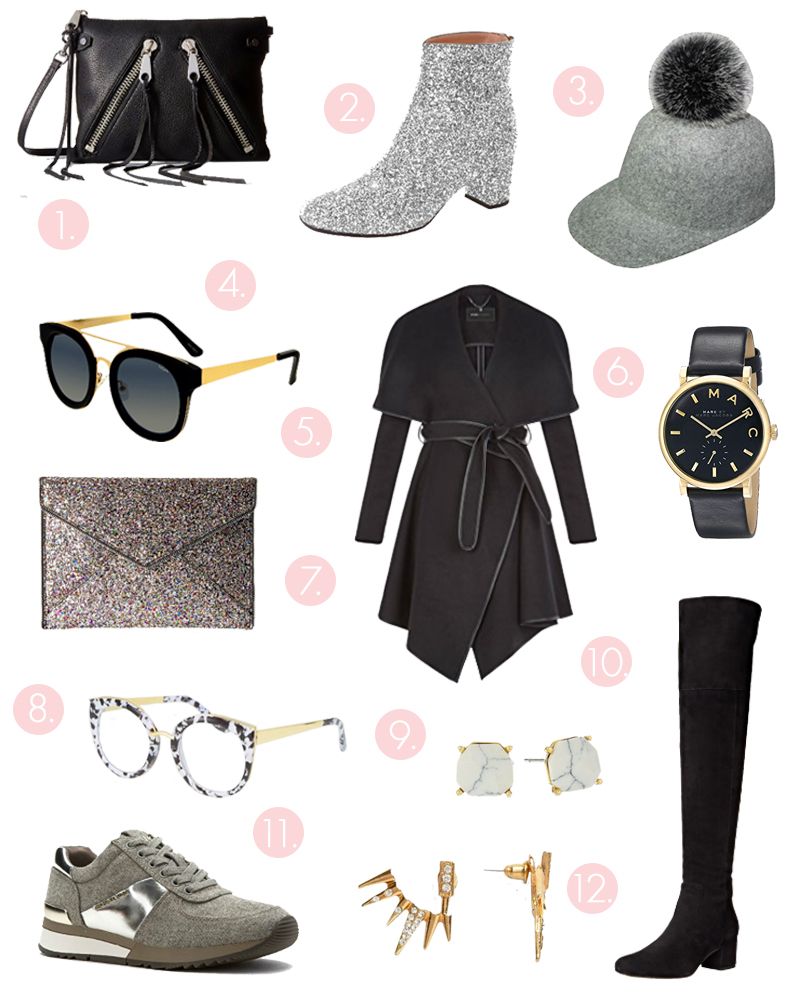 Sooo, this year's Christmas list is a little different than usual! I'm trying to buy mostly clothing items as I can that I can still wear after Baby is born (although a few maternity staples have been lifesavers for sure!), so when it came to making my wish list it's pretty much all things that don't need to go around the belly so they can be worn anytime now and later!
1. I love the moto jacket inspired look of this simple bag. Since I'm usually wearing a moto 90% of the time I might as well have a complimentary bag, right?
2. These. Boots. Are. EVERYTHING! Perfect for the holiday season (and beyond!).
3. I love all the caps with giant poms on top that I've been seeing. Todd rolls his eyes a bit when I try them on but I think they are so cute!
4. I can't have enough pairs of black and gold sunnies. They go with just about anything and I think it's a good color combo for blondies like myself.
5. Technically this coat does go around the belly but I figured I could get away with it since it's a draped and belted style and I could tie it looser or tighter before and after baby…
6. This watch is a perfect blend of classic and modern—so sleek!
7. Glitter clutch anyone? Perfect for a night on the town (or especially a NYE purse too!).
8. I do have real glasses and contacts but these faux glass are adorable!
9. Simple marble studs make an everyday outfit a bit more chic.
10. I'm a bit obsessed with boots and this over the knee pair is exactly what I've been hunting for. Yes please!!
11. A cool pair of sneakers can really elevate you jeans and t-shirt game. I have the cousin of these in black and I wear them constantly so a grey pair would be great!
12. This style of earring that dangles under the ear is SO pretty! Make sure to do an updo with these babies, you'll want to show them off!
While it's been fun (although stressful at times) shopping so much for Baby lately, it's nice to look around for a few things for me for a change. Hope you get something you love under the tree this year!