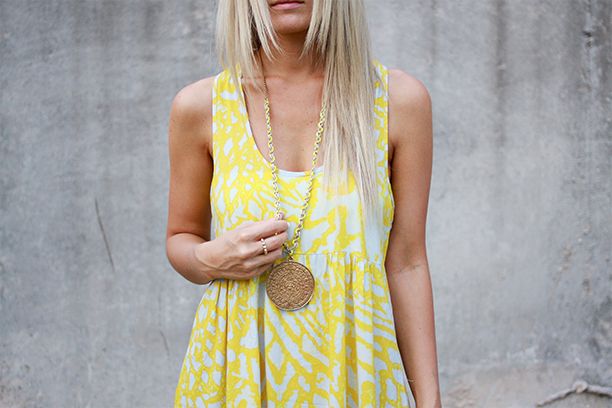 I don't know about you, but I tend to get a bit obsessed with certain clothing trends or categories from time to time, and right now I can't get enough of maxi dresses. Long dresses give the wearer such a put together look, but the secret is that they really are one of the most comfortable things you can put on. Plus, when I combine a super long maxi with 5 inch wedges, I can suddenly fool people into thinking I'm 5'9″. That's a plus.
I bought this giant gold Aztec medallion when combing flea markets a few weeks ago, and besides worrying about the fact that it might make me look a bit like a Bee-Gee, I think it's one of the coolest things I've bought in a while. The original chain was a bit of an awkward length, so I added the medallion to a long gold Madewell chain, and I'm really pleased with the switch.
Dress/Rachel Roy, Shoes/Aldo, Necklace/Vintage
There may come a point in the middle of summer where the heat doesn't allow for giant blanket-like clothing, so I'm going to milk the maxis while I can before it gets too hot. I hope you got to enjoy a relaxing long weekend this Memorial Day!