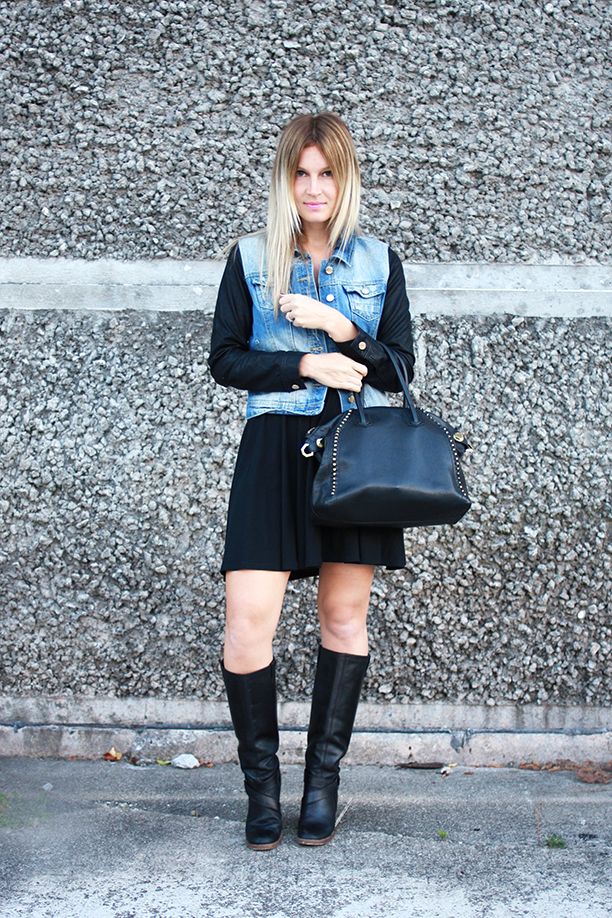 I don't know how you plan out your seasons, but I always enter a new phase of weather with a list of clothing items that I would like to snag if given the chance. This spring I saw a jean jacket with leather sleeves and just about fainted at the brilliant thought of it all, but alas, it was too big and the only size left. Awesome. I vowed this season to rectify the wrong that was done me (don't you mentally correct my grammar! It done me real bad…), and I only had to wait a few weeks before I found this little gem that was just what the doctor ordered.
 Jacket/Olive and Oak , Dress/Forever 21, Boots/Aldo, Bag/orYANY
I actually have to make a conscious choice not to wear my jean and leather frankenstein jacket every time I leave the house because I'm afraid I'll overdo it and get sick of it. Is that possible? I like that the jacket gives me the feeling that the middle part of my body is a redneck but my arms are all luxurious and city folk.
Anyways, don't you just love these black boots? I thought you would. There's actually a mysterious secret behind these boots, and I'll let you know what it is soon…
MWAH, HA, HA, HAAAAA!!!!