Hi Dolls! It's a big relief to finally have announced our big secret to everyone and I don't have to hide my bump in photos anymore—phew! While I've been sucking it in for the camera in some situations, I've also been taking a monthly photo to document the growing bump each month and we finally have the first trimester complete!
                                                  Dress/Forever 21, Shoes/Shoe Mint
Month One: I found out I was pregnant when I was 4 weeks along (more on that story and how I told Todd later) but it was quite a whirlwind of a week to make sure it was true, tell Todd, and already be touring hospitals and birth centers to see what felt right for us—talk about an out-of-body experience! The first few weeks of knowing involved no nausea, some insomnia in the morning (waking up way earlier than usual!), and just an odd outward pressure in my belly I hadn't felt before. Not too bad as far as symptoms go! I still felt scared at times hoping Baby was healthy, but it mostly just felt surreal overall.
                                                Romper/Nasty Gal, Shoes/Shoe Mint
Month Two: Oh man, this is where all the nausea kicked in! All the sudden I was throwing up out of car doors, barely making it home from stores to be sick, and just feeling generally miserable with intense nausea for 14 hours a day. I couldn't move, couldn't talk, and even though I felt like crying most of the time, you'd be surprised how much crying moves your stomach so even that made me feel worse! Also, all the sudden I could smell everything and 99.9% of the smells I could suddenly detect were not pleasant to me. It's funny now but there were days when just the smell of my own body nauseated me but my deodorant made me more sick, so what's a girl to do?? Sigh. I also swore that even the freezer suddenly smelled (which Todd said was impossible), but I put baking soda in there anyways since I had to hold my breath when I opened the door. The insomnia switched from the morning to late-night when I was trying to fall asleep (usually a pretty easy task for me) so I spent 1-2 hours per night laying awake, feeling terrible, just waiting to doze off. I have to admit that there were lots of nights spent wondering if I could do it all again the next day, but I'd usually look at Todd and ask "Is this forever?!?" and he would assure me it was a limited time deal. Also, I tried to remember that while it was so much tougher than I ever imagined it being, it was for a pretty great cause and I wanted to remain grateful for that.
                                              Dress/Forever 21, Shoes/Public Desire
Month Three: While the intense ability to smell calmed down a bit, the nausea and puking still hung around but my midwives finally found me a medicine that helps a lot some days and that's been a welcome relief!! It's tough not knowing when you'll have a good or bad day (even minute to minute I can swing the opposite direction pretty quickly!) but I just felt grateful for any hours I felt more like myself. This was also the month we heard the heartbeat for the first time and saw a sonogram at 12 weeks so that was a pretty special feeling as well. I had some light spotting a few times in my second month so I actually cried more once we left the sonogram than during just out of sheer relief to see Baby moving around so much—tears of thankfulness for sure! Due to the all-day nausea in the second month (and my new bloodhound smelling abilities) I was eating way worse than I normally would just to find anything I could eat and keep down, so I tried in the third month to get in more salads and healthy options when I could stomach it. I've learned to not beat myself up too much for a dinner of buttered noodles and toast—it's not forever and at least I ate something!!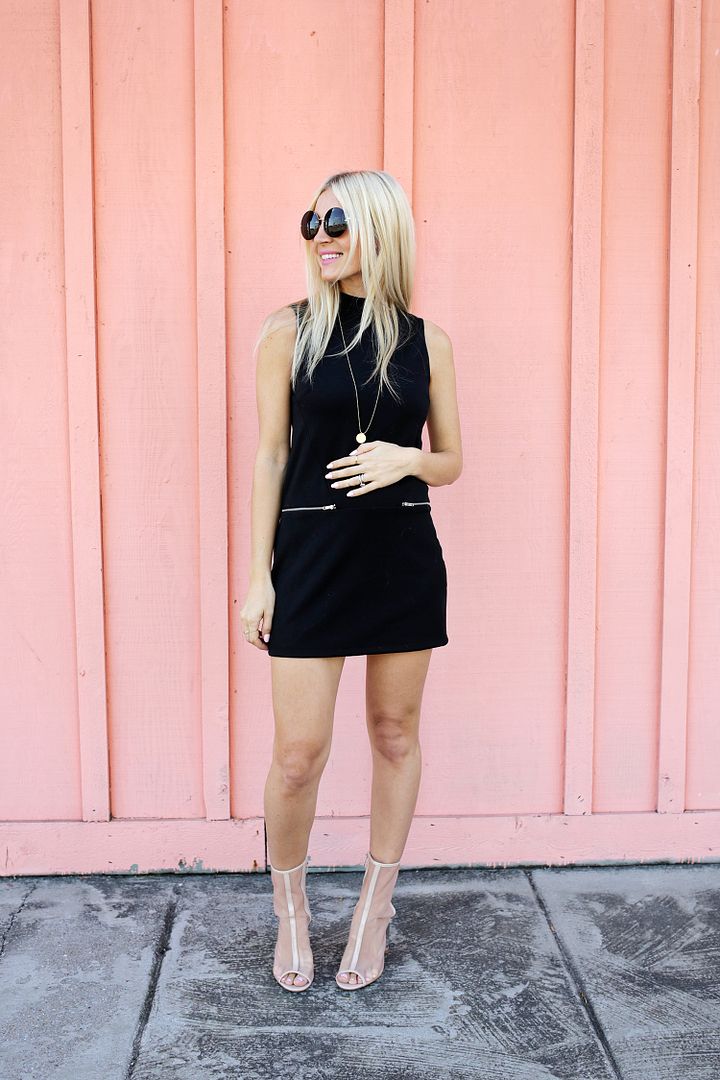 There are some fun parts to keeping such a sweet secret to yourself in the beginning of a pregnancy, but overall I'm glad that everyone knows now and we can share our joy with family and friends. Here's hoping the tough symptoms of the first trimester continue to ease up as we move into the second!
xo. Laura