IT'S HERE!! VALENTINE'S DAY!!!
You're probably sitting there thinking, "Why is this chick so excited about Valentine's Day? Get over it already. She's WAY too enthusiastic about it. You'd think it was her middle name or something."
Guess what? IT IS.
No joke, it's not a prank. My legal name is LAURA. VALENTINE. GUMMERMAN. Granted, the Valentine part sounded better with my maiden name (thanks for nothing Todd), but it's still on my driver's license, all nine letters of it. Now, technically, I'm named after my grandmother's maiden name, and not the day of love, but I didn't know that growing up. I always thought it was a special day that was partly just for me. Stupid kid.
Anyways, I still love the day and I always decorate for it because it's just too much fun not to go all out.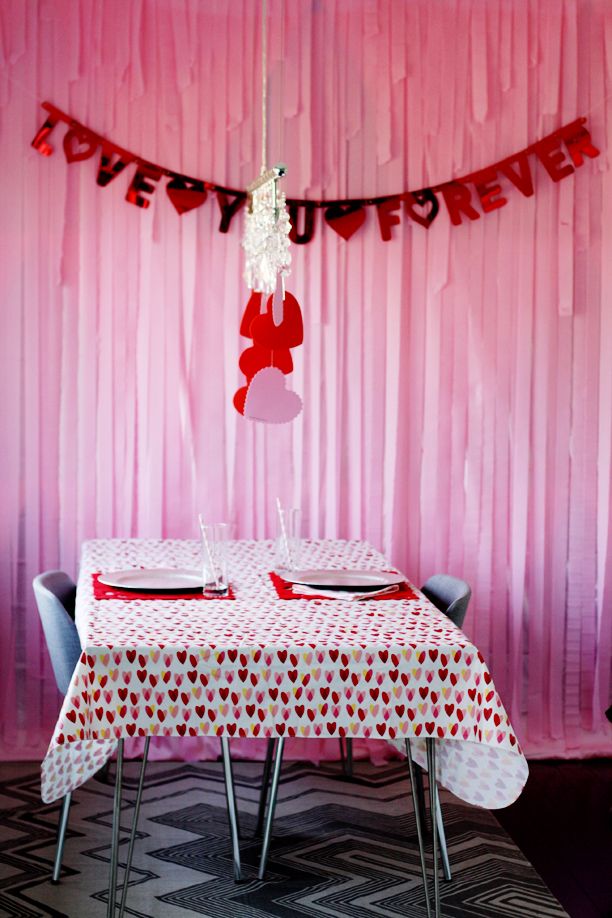 Here's what I did this year in our new house. I haven't made a streamer wall before, but I really like how it turned out. Our horizontal chandelier is perfect for hanging things from, so the added hearts were a no-brainer, and I made pink chevron napkins to add another pattern to the table.
I actually have to work late tonight (bummer) so we are going to celebrate tomorrow night instead, but the table's all set for whatever chocolate covered goodies we decide to indulge in. Hope you are having a lovely candy-filled day as well!