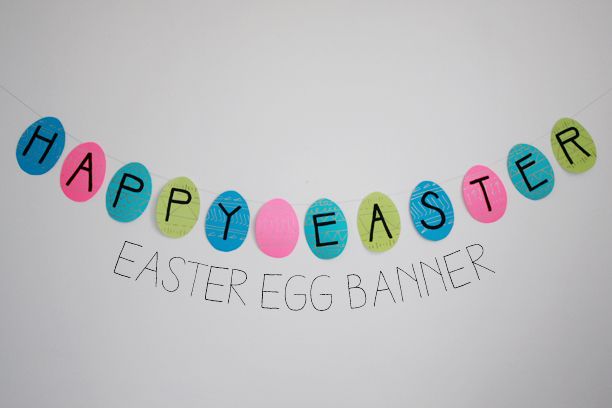 As far as holiday decorating goes, my big events are Christmas and Valentine's Day, but I do love the pastels and brights that come with the Easter holiday. My holiday and party planning bins are getting fuller and fuller, so I have to pick and choose which holidays I want to give that precious retail space to. Since I went to college a mere 13 hour drive from home, I've spent most of my post-high school Easter Sunday brunches gathered around a card table with other long-distance pals. One of those years, I made an egg banner spelling out "Happy Easter" to add a more festive feel to the gathering, and since it doesn't take much room to store, I've kept it and have been using it every Easter since. The banner is getting a bit worn, so I thought I would make a new one this year and change my approach a bit.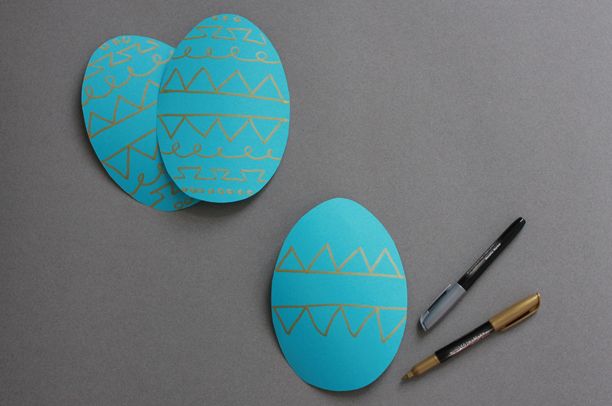 You'll need to cut out 12 egg shapes (one for each letter in "Happy Easter" and the space in between the two words) in whatever color and size you choose. I then used a gold and silver paint pen to add different geometric patterns on each egg.
Once you have finished your pattern on each egg with the paint pens, use either black acrylic paint or a marker to make each of your letters to spell out your sign. Attach each egg to thread or twine with a piece of tape, and you're done!
Now you have a cheerful (and colorful) Easter banner that will take up virtually no space in your holiday decoration bin the rest of the year. Double win!