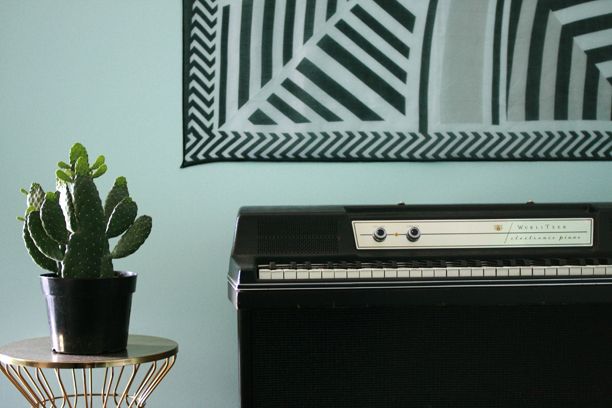 You know the feeling when you come across an idea that is so great, but so simple and obvious, that you can't believe you hadn't thought of it before? That's how I felt this fall when I came across this post from Design Sponge about art scarves. There are some incredibly beautiful scarves out there, and it never even occurred to me that you could hang them as art on a wall- genius!
I had this geometric scarf that I loved from Forever 21, but it always made me a little sad that you couldn't see the design very well when it was looped around my neck. Once I read the scarf post, I knew my scarf would be a perfect candidate for the wall. All I needed was a hammer and a few small nails, and I had my giant hanging textile.
I love how thin the scarf is because the white areas of the pattern disappear and it looks like the black pattern is screen printed on the wall. Our living room is really coming together lately and I love it so far. Hooray for progress!!