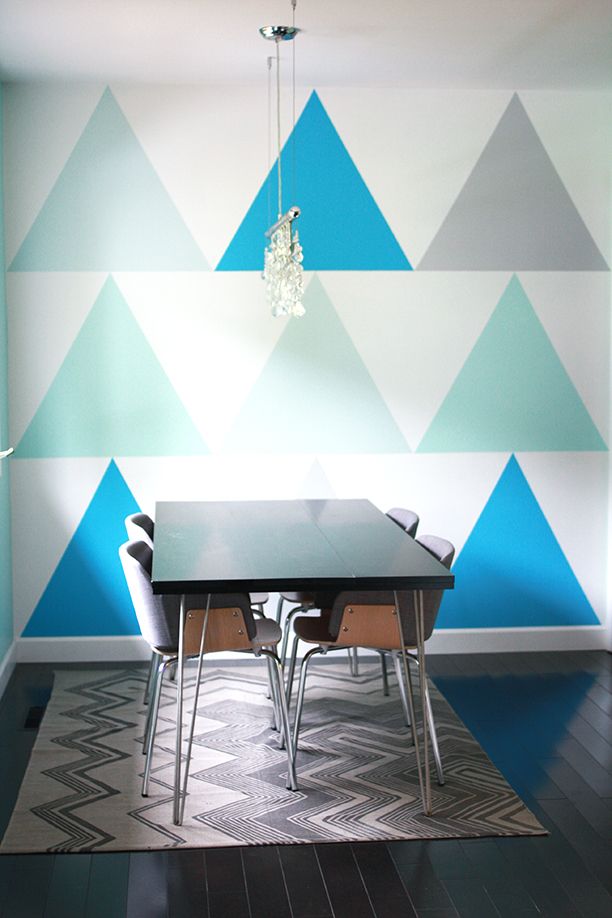 I think if you would have told me five years ago that I would become obsessed with triangles I would have said, "What? Triangles?? The shape that Sesame Street is occasionally brought to you by??? That's weird." But it's not weird, because triangles really are great. Maybe it's their pointy edges that appear rugged and a bit dangerous, maybe it's their three smooth sides that remind us that three is the perfect grouping number, or maybe it's their overall shape that reminds us of the exotic and mysterious Egyptian pyramids….I don't know for sure. But I do know that my friends refer to my house as the "triangle house" on occasion due to the overwhelming prominence of the shape.
In fact, I even have one statement wall in our dining area solely dedicated to the silhouette. I thought I'd share the process I went through to make my triangle statement wall in case you're as obsessed with triangles as I am…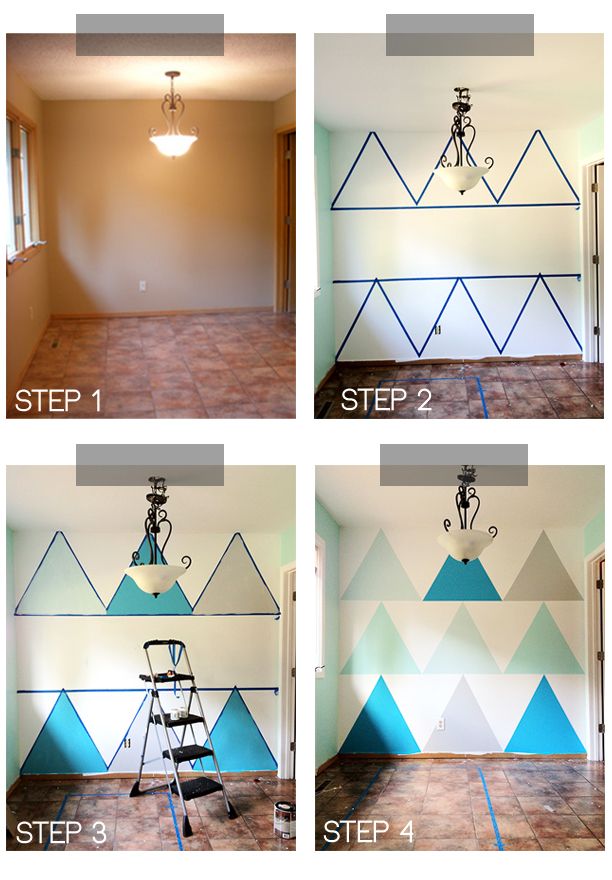 1. First, I cleared out the dining area and primed and painted the wall white. (I was in the middle of renovating the whole house when we first moved in (which you can read about here), so you'll see that the floor, trim, and light fixture got switched out in the process as well). 2. Once I had a blank canvas, I measured the wall's width and height and divided the space into six equal squares in which to paint six triangles. I made small pencil marks on the wall marking the squares and proceeded to mark off the top and bottom row of triangles with painter's tape. (I did these rows first and let the paint dry before taping off the middle row since the triangles should be just touching the rows above and below them). 3. Once the triangles were taped off, I used two coats of paint to fill in my triangles and carefully peeled off the tape once the paint was dry. I didn't yet know about this awesome tip for painting lines with painter's tape, but thankfully my lines still came out nearly perfect anyways (phew!). 4. I touched up any paint bleed with a small brush and the white wall paint, and I was done!
For the colors, I used Valspar's Sprinkle, Silver Leaf, and Icy Blue. I actually couldn't find a color that I liked enough for the brighter blue, so I used a craft store acrylic paint in Pool Blue to get the desired hue.
Making a statement wall is always a fun project for me, and it's so easy to do that you can switch up your wall as your style (or mood) changes. Think you'll be doing a statement wall any time soon?