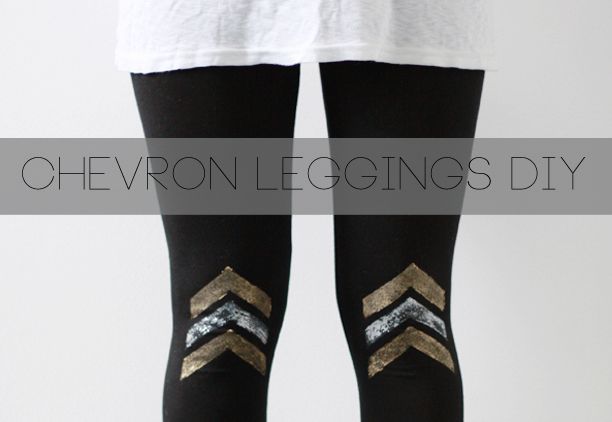 If you had to guess what category of clothing I wear most in my everyday life, you would be correct if you answered "leggings." You would be incorrect if you answered "harem pants," "crop tops," or "anything made of hemp/linen." Leggings are the best because they are super comfy cozy and they allow you to move around at will. Ever wear a pair of wide legged pajama pants to bed and find yourself all tangled up in them, paralyzed from the waist down and calling out for help? Well, that's not going to happen with leggings. No sir. They fit like a second skin, freeing you from the potentially perilous trappings of wide legged accoutrements.
So, what better way to pay homage to leggings than to spice up your dreary plain pair with a super easy stamp DIY? There are some pretty sweet design-on-the-knee tights out there (like these), and chevron patterns are all over my house, so I figured if I put them on my clothing too I'll blend right in like a chameleon. Finally, no one will notice that I've been on my couch for ten hours watching a Duck Dynasty marathon…
Using foam sheets, cut out three "v" shapes for your chevron and glue them onto a sturdy piece of cardboard (something simple like Elmer's glue should be fine). I tried on my leggings first and marked where the top and bottom of the pattern should hit with a piece of tape so I would have a guide when stamping. I used Tulip Soft Fabric Paint in metallic gold and silver and painted a generous amount on my stamp. I would suggest inserting a thin piece of cardboard into the legging knees so that the paint doesn't bleed through to the back layer when you stamp the pattern.
Two stamps later- voilà! Your knees are stamped. As far as DIYs go, this is a pretty simple and quick project. Think of all the things you could stamp on leggings: cats (of course!), skulls (duh!), hearts (I want, I want!), even sea anemones (wait, what?).
With all the possibilities, I think I'm going to need some more leggings!