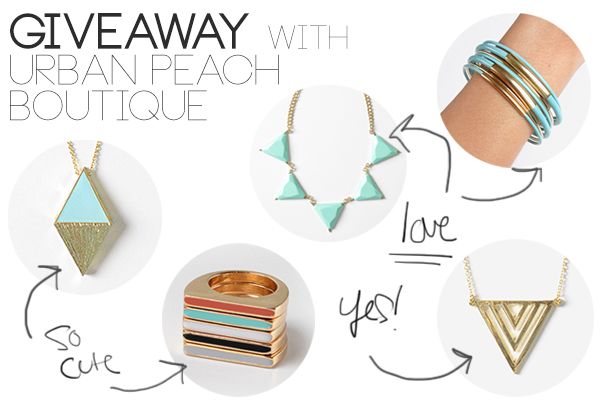 *GIveaway is closed*
Free stuff? Yes please! I'm super excited to announce that today I'm doing my very first giveaway on The Band Wife blog! You have been an amazing audience of readers so far in this blogging experiment, so I felt it was high time that you got something in return for your faithfulness. Urban Peach Boutique has tons of cute accessories, and they are giving away one necklace of the winner's choice. All you have to do to enter is visit their site, post a comment below naming your favorite accessory they carry (if you can choose just one, that is), and like Urban Peach Boutique on their Facebook page– that's it!
And, because you're all winners in my book, you can use the promo code "BANDWIFE15" and receive 15% off your total purchase at Urban Peach Boutique. Hooray! The giveaway entry is open until July 19th and the winner will be contacted shortly after. What are you waiting for? Enter now!