I don't know about you, but when I go to new cities I want to see what's new and unique to that spot, but I also love to do the things I'm already obsessed with at home. For example, I love vintage and flea market shopping in Springfield (believe it or not, we have some fantastic spots), so I really wanted to see what Nashville vintage shopping was like as well. I heard that we just missed one of the bigger outdoor flea markets, which bummed me out, but we did get to stop by a few vintage places before Todd's Mutemath show that night and see what Nashville has to offer.
While we didn't bring home any large ticket items, I did score a silver bracelet that looks like three long claws have a death grip on my wrist. Nothin' says "high society" like dragon talon jewelry, am I right?
We also got to spend some time out on a nearby lake, courtesy of Todd's buddy and his new boat. It really was perfect boat weather, and even though I got a really attractive sunburn on my nose (complete with sunglasses white spot between my eyes), it was a fun memory to zip around the Tennessee water for a bit.
Lately our other favorite thing to do when we're home is go to brunch (like here), so we made sure to stop by Sky Blue Cafe on our last day in Nashville before Todd sat in on a studio session. We chose to sit outside and had to keep scooting our table further into the shade to escape the hot sun, but the food was delicious and they make a perfect café au lait.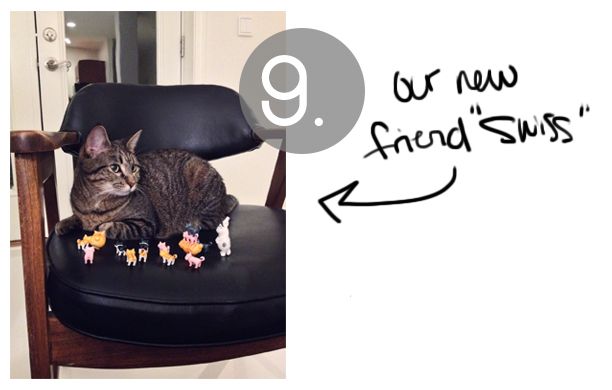 As you can see, we weren't about to leave Nashville without making a furry friend, and pretty girl Swiss here belongs to Katy + Gavin, a delightful couple that we met. Todd swears up and down that they are our Nashville alter egos: they have the same furniture as us, been married as long as we have, own a cat like us, met in a similar way like we did. They also like food and air. It's pretty astonishing actually…
As if we didn't already love the food and atmosphere in Nashville, just throw in cute kitties and we'll be coming back for life.
xo. Laura