One of the BEST things we got to do during our trip to Palm Springs was go and tour one of Frank Sinatra's Twin Palms estate. Since I grew up on his movies and music from an early age I am a giant Sinatra fan so getting to go and see his house was definitely a dream come true. Frank's always my answer to the question, "If you could meet one person living or dead, who would it be?" and being in his personal home is probably as close as I'll ever get to ol' Blue Eyes since he passed away in 1998.
The house was built in 1947 but unfortunately someone that bought the house after him let it deteriorate rather badly until the current owners renovated it back to it's original look and feel.
These two twin palm trees were the main reason that Frank chose this spot to build on and it was originally next to a dirt landing strip that was the Palm Springs airport in the 1940's (his other requirement was to be close to the airport for traveling).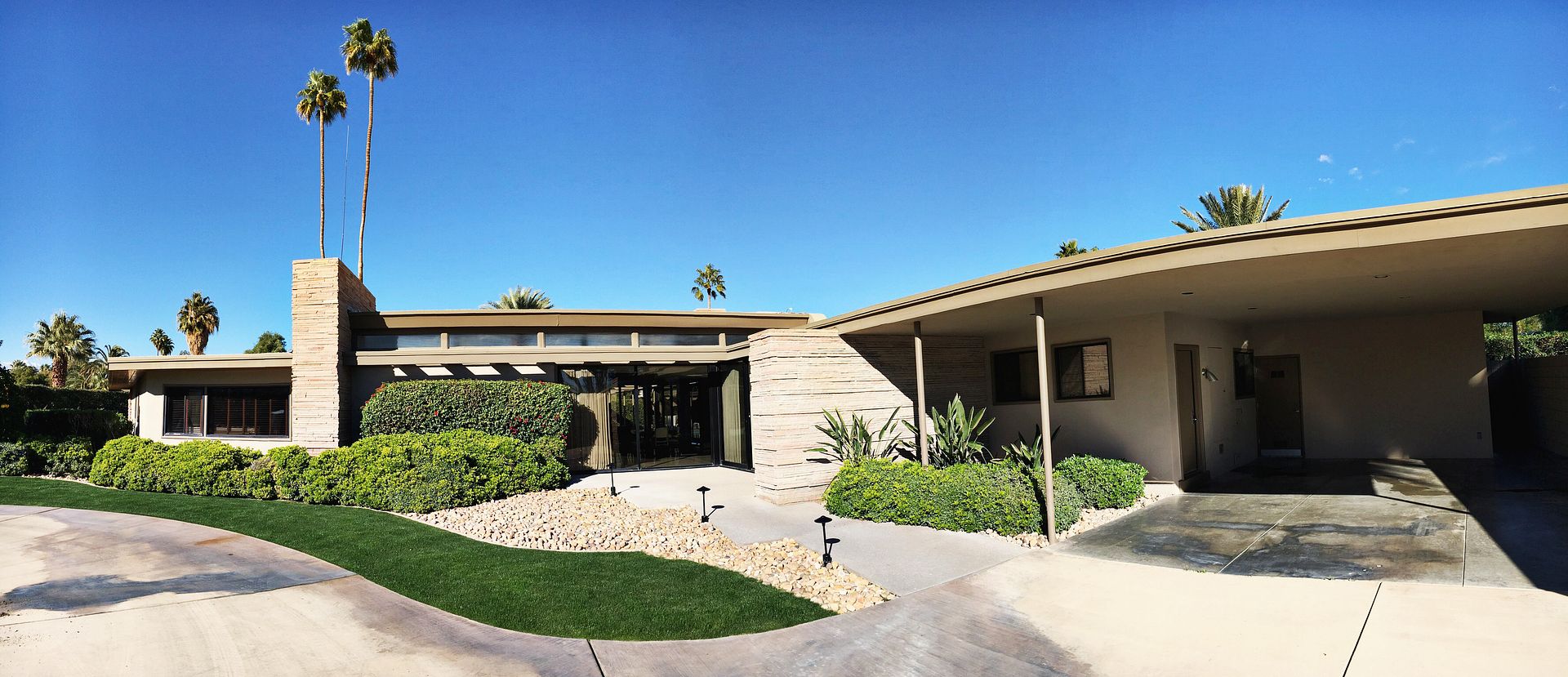 Sinatra had his pool built in the shape of a grand piano and the holes in the ceiling of the walkway above me cast shadows like piano keys when the sun is setting over the mountains. So cool!
Orange was Sinatra's favorite color so they've re-decorated the house with lots of orange accents like in the master bedroom above. While a lot of the original flooring, tile, and wall treatments had to be replaced, there are still some things in the house that are original like the sink and tile in the master bathroom. Why does that matter? Well, you can still see a crack in the sink and wall behind it where a champagne bottle was thrown during one of Frank and Ava Gardner's fights (they were kind of famous for their over-the-top fights in the day).

Another original piece to the house is Frank's recording setup in the living room. Obviously all the musician boys in our group were fascinated by it and if you look closely at the photo below you can see where Frank marked his favorite settings with pencil. It didn't really hit me until afterwards that I was standing in a room that Frank Sinatra was singing in all the time. Woah. That was a big deal for me.
This room with the palm wallpaper is called the "green room" and it's where he would hide his celeb friends who were going to perform that night at one of his parties until it was showtime. It's hard to get the full scope of the room but even the ceiling is wallpapered with the palm leaves. It's amazing. It's not the original paper, but they used the closest they could get so it would have that same overwhelming feeling. I have such a star-struck look on my face in the above photo, but I promise it wasn't posed! Just trying to take it all in…
Apparently Sinatra originally had a flagpole set up between the two palm trees and he would raise a Jack Daniel's flag (his favorite liquor) at cocktail hour to signal to the neighbors that the Sinatra bar was open for business. How cool is that?!
While we had so many memorable experiences on our first trip to Palm Springs, I will certainly never forget the few moments that I had to spend some time in Frank Sinatra's house. My current favorite Sinatra song is actually from a much lesser known movie called "Higher and Higher" where he made his first movie appearance ever and sings this reeeeally sweet little song (it starts about 2:12 in the clip) that literally makes me want to do one of those fainting sighs that you see at Beatles concerts. Thanks for letting me come over Frank, I only wish you could have been there too!
xo. Laura