It's been a little while since I've done a post dedicated exclusively to cats, so I thought I'd wrangle together a few of my recent favorite cat-related finds and share them with the rest of you cat lovers out there. I always find it so interesting when I share part of my home life (like a room tour) on A Beautiful Mess and a large chunk of the comments end up being cat-related questions about how I keep my cats away from potentially poisonous houseplants or deal with cat fur (in case you're wondering, the answers are, a.) they aren't that interested in them, and b.) I clean it up constantly). Now, on to the cat items!
Ok, one electronic item that has changed our life is this pet tracker device. Both our cats love to be outside and although Charlie (the grey cat) has never run away (she's much too scared), the second we introduced Mac to the outside world he pretty much immediately jumped over the fence to explore. I definitely went into panic mode because I didn't want him to get lost or into a fight with another cat, but no matter what we tried he would just jump over when we weren't looking and then we didn't know which direction he went in. I even bought a giant super soaker to spray him as he was about to jump over. Didn't care. Did it anyways. Most collars that have GPS trackers are too big for cat's necks, but Todd spent hours searching online and found one that has a directional tracker on it instead. Basically we play "hot and cold" and move in the direction where the beeps get faster to find Mac. Plus, his collar beeps as well when it's in tracking mode and he's learned that if he's beeping, he's in trouble and he heads home. Every once in a while I feel like the tracker gets confused and can't tell which direction he's in, but most of the time it works really well. 

I recently made this little house bed for Mac and I think it's SO CUTE. When we got Mac I put a cat bed next to our bed so he could sleep nearby but it juuuuuust wasn't that aesthetically pleasing to the (i.e. my) eye. I saw a dog bed on Pinterest that I loved but the directions were in Swedish or something and the proportions were way off, so I got a few lessons about the power tools at work and made my own. Not too bad for my first big project! He's such a mamma's boy, so he spends a lot of time cuddling with me and night and then jumps down to his own bed when he feels crowded.
"But why doesn't Charlie have her own bed made with love?" Because she own the bottom half of our bed and she isn't moving from there for nobody…
Cat food has always been a bit of a battle between me and Charlie. I started feeding her an Friskies flavor once she was done with kitten food, but I didn't like how many dyes were added to the food (it's pretty much florescent orange) and any time she got sick on the carpet it would leave a bright orange stain that wouldn't budge. After three stains in the same room, I switched her to an all natural cat food from the health store that was made of oats and pine needles (or something like that), but she hated it. I even mixed them together with the orange bits but she would only pick out the ones she liked. I even bought all the other healthy brands they carried but she wouldn't eat any of them. I felt like a Mom playing the, "We are just going to wait until you eat that or you can go hungry game," but she never gave in and, apparently, would rather starve. I eventually went back to the orange kibble so she would at least eat something, but I didn't feel good about it. Thankfully, LUVSOME contacted me and asked if I would be interested in checking out their cat food, so I looked at their Natural flavor ingredients the next time I was at the store and was happy to see it had much less dye than her last food. I mixed it in with her current food for a bit until we weaned out the old flavor and I haven't had any problems with her eating it. I still would like to try and get her to like some of the organic brands with no dye, but I feel like this is a step in the right direction for a while.
If you're wondering what food Mac prefers, the answer is "any." He'll eat anything.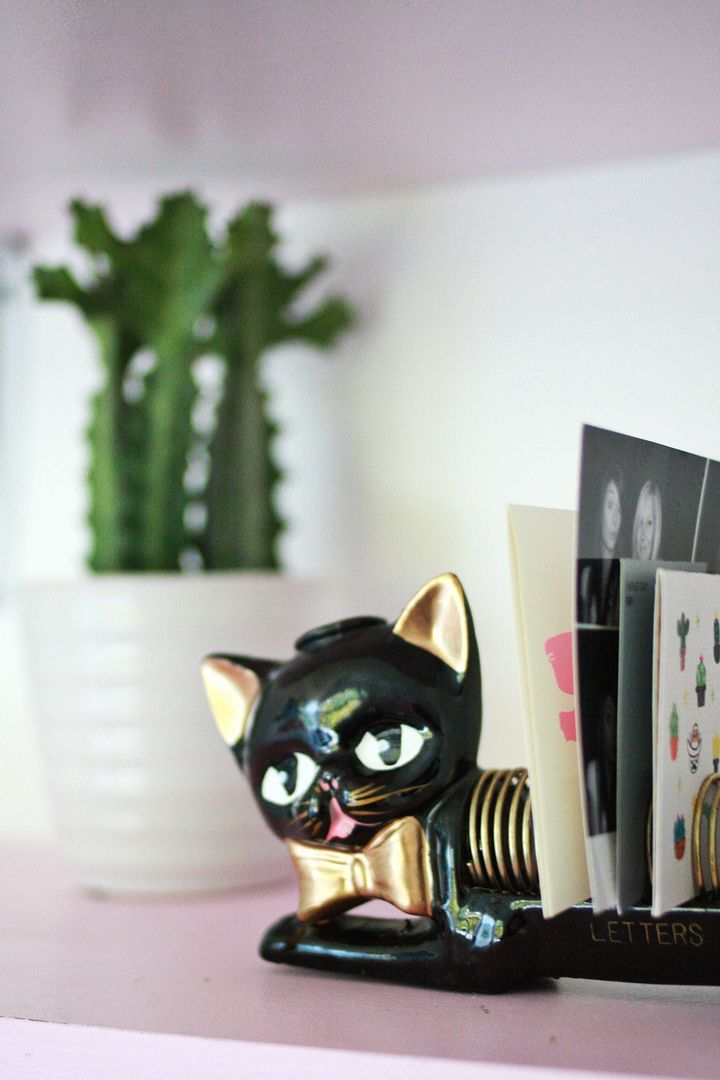 As far as good cat finds go, I was wandering around a flea market last weekend deciding if an expensive coat was worth the money and I found this vintage kitty letter holder. He even has a spot to store a pencil straight up where his tail goes! Elsie has a dachshund version of this that I love so I was thrilled to find "my" version of such a cute idea. I did a bit of paint touchup since his ears were red and his eyes a scary green. They made him look a little crazy so I just painted on the features I thought he should have. Love it!
Aren't they just too much? As far as how they are getting along goes, things are about the same as they were last time I gave an update. There's still moments of hope for BFFness (they slept about 8″ away from each other on the bed most of last night), but there's also a fair share of growls (Charlie), hurt feelings (Mac), and rude incidents involving pouncing on others who are sleeping (Mac on Charlie). I started pushing their food bowl closer together while they eat thinking that will inspire good feelings on crabby Charlie's part. Maybe?
These two are about as opposite as they can be, but they are still my saving grace when Todd is away and I wouldn't trade their little faces for anything. Got any cat products that you're into right now?
Additional adorable photos by Sarah Rhodes and Janae Hardy.